Emergency & After Hours Electrician Services Annerley
Available 24/7
No Power? No Problem!
If you are in Annerley or surrounding areas and you need an expert electrician - that can locate and fix that fault fast. You need to call the best local after hours electrician available - Just-In Time Electrical. An emergency electrician that is available 24 hours a day 7 days a week ready to jump in the truck and get to you fast. Whether the power is tripped off or there is no hot water jump on the phone now and call the your local Annerley after hours emergency electrician. Just-In Time Electrical has been working in the Annerley and surrounds for the last 10yrs - so we have the local knowlege that will help get you back on fast. We run an Emergency electician service that is available 24/7, 365 days a year. So if you have lost power, lights or hot water in your house, unit or business and need an after hours electrician now call us - we can be there quick and get your power restored. A Brisbane electrician you can count on, our staff have all been trained to locate and fix faults fast. We use the latest testing instruments to ensure that all work is done efficently that's why we are know as the best Brisbane After Hours Electrician.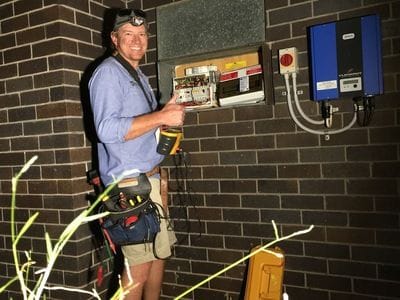 What after hours electrician services we provide:
If you want to check for local power issues in your area visit the Energex website and put in your post code. Their site gets updated every 15 mins so you will be kept up to date with local power outages in your area.
So you've got up early jumped in the shower and got a nasty shock - NO HOT WATER! Don't worry we are on call 24/7 to help you out. First go to the hot water system and check the hot water outlet pipe if that is cold and you don't think you have used all you hot water yet then chances are you have blown element or have a faulty thermostat. If the pipe is hot it could be the mixing valve that is faulty - this is a plumbing issue but feel free to call us and ask for some advice if you are unsure.
So you've found you have a blown fuse, be very careful fuses and old boards can be very hazardous. If at any time you don't feel competent with what you are doing stop straight away and call an Emergency Electrician. Turn the power off at the main switch, remove blown fuse holder and replace fuse wire, being sure to replace it with the same size wire. Once completed re-insert fuse holder and turn on power. If it blows again you may have a fault in an appliance or wiring. Go though the premises and unplug all items and try replacing the fuse again. If the problem persists contact you local electrician Just-In Time Electrical.
Tripped power is the most common call out in the Inner City Suburbs of Brisbane- the most common reason the power trips out is due to a faulty appliances or water. So if you have a tripped safety switch and you feel competant then give this a try:
Attempt to reset safety switch
If it trips again - then unplug all appliances affected
Attempt to reset safety switch again
If it trips again - you may need the expertise of Just-In Time Electrical
If you are able to reset it then plug back in your appliances one at a time
When the power trips off again that is the likely appliance so leave it disconnect
Once power is restored always check the operation of the safety switch one final time by pushing the test button.
If you still have problems call and emergency electrician you can count on Just-In Time Electrical your local after hours electrician in Annerley.
This is when it is important to be vigilant - electricity can kill and it is hard without the correct tools to see or detect it. If you see fallen power lines in Annerley that belong to the Energex network ensure nobody goes close and call Energex immediately on 131962. If the power lines are on your property call Just-In Time Electrical for a fast response and advice.
Switchboard fires are commonly caused by loose connections getting red hot. If your switchboard is on fire after hours you need to act quickly. Call "000" immediateley if emergency services are required like the Fire Brigade or Ambulance. If it is safety to do so try and turn off all the circuit breakers at the switchboard. If the board is to hot to touch or melting you may need to use something insulated like a peice of timber. Do not use water to put out electrical fires - if you have a fire extinguisher use either a dry powder type of Co2. You will need an Emergency electrician to be there fast to check and test the board and get power back on if safe to do so. Just-In Time Electrical is on call 24 hrs a day, 7 days a week so you will never be left in the dark.
Most issues with stoves, cooktops and ovens are best left till a normal business day as parts can be hard to get. However if you have a cooktop, stove or oven that just won't turn off go to your switchboard and turn off the circuit breaker that spplies that device. Last thing you want is an element burning red hot all night. If you can't work it out you will need an emergency electrician that can be there fast.
Not all local emergency electricians are trained in testing, Just-In Time Electrical has testing proceedures in place to ensure the safety of you and your family as well as our staff. We use the latest testing equipment to locate faults quickly and get your power back on. When you have an after hours electrician out to your emergency job you don't want them scratching their heads wondering what to do next. Just-In Time Electrical arrives on site ready for action our staff are trained and test equipement is kept up to date.